Top 5 Stocks To Buy Now – Blue Chip Stocks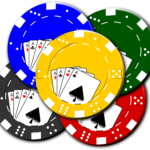 There is no universal agreement on exactly what makes Top Stocks "Blue Chip".  There will always be individual exceptions and preferences.  But, generally speaking, Blue Chip Stocks must include the following attributes to qualify as – Top Stocks Buy Now!
Well Established and Financially Sound  
Blue Chip Stocks are from well-established and financially sound companies.  These are usually very large and well-recognized companies with a long history of sound financial performance. Stocks from top companies should have proven capabilities to endure tough market conditions. They should also give consistent, high returns in good market conditions.  Blue Chips are generally the market leader and, more often than not, a household name.
Market Capitalization in the Billions
Blue-chip stocks typically have a market capitalization in the billions.  A generally accepted benchmark is market capitalization of at least $5 billion.  However, market or sector leaders can be companies of all sizes.
Stocks That Pay Dividends
While dividend payments are not absolutely necessary for a stock to be considered a blue chip stock, most of the stocks on our lists have a long history of paying stable or rising dividends.
Traded on Major Stock Indexes
Blue-chip stocks are generally found and traded only on the most reputable market indexes or averages.  These include the Dow Jones Industrial Average, the Standard & Poor's (S&P) 500 and the Nasdaq-100 in the United States, the TSX-60 in Canada or the FTSE Index in the United Kingdom.
Top 5 Stocks To Buy Now
We selected companies using the following criteria:
Grow earnings at least 8% annually,
Solid cash positions with lots of cash on hand and tons of free cash flow.
Future-looking — not backward-looking.
Still have growth potential, with their best days ahead of them
With that in mind, here are five Blue-chip stocks to be considered as top stocks buy now…
Top 5 Stocks Buy Now: Amazon (AMZN)      
Amazon made headlines earlier this year by reaching a $1 trillion market capitalization.  Amazon's key business segments, including core e-commerce, Amazon Web Services public cloud and Amazon Prime subscription services, are showing no signs of slowing down. At the same time, emerging high-growth businesses such as advertising could potentially be big for Amazon in the longer term.
Jefferies analyst Brent Thill sums it up well: "Amazon has a clear path to at least another 50 percent upside by 2020." "We believe the stock remains undervalued given all embedded growth opportunities and the optionality from new initiatives." "We think Amazon trades at a material discount to peers on growth-adjusted basis and expect multiples to expand over time."
Top Stocks to Buy Now: Apple (AAPL)   
Apple is a premiere name in blue-chip stocks. The company has almost $250 billion in cash and investments.  AAPL stock has gained more than 30% over the past 12 months, more than 90% over the past two years, and 192% over the past five years.  Apple's earnings are expected to continue growing at a healthy pace over the next couple of years and beyond.  Remember, Warren Buffett endorsed Apple by disclosing a 2.6% stake in the company, making his Berkshire Hathaway the fifth-largest owner of Apple shares. This is in spite of his famous investing habit of staying away from tech.
Top 5 Stocks to Buy Now: Microsoft (MSFT) 
Is another mainstay of blue-chip stock lists, and it truly does belong there.  That's because it offers safety.  Microsoft sits on a cash hoard of some $130 billion, and has insanely consistent free cash flow of $25 billion annually. It can even afford to pay out half of that as a dividend.  Microsoft may not be on the top of the news making headlines like it was in the 1990s, but it doesn't have to be to make you money.
Top Stocks to Buy Now: Alphabet (GOOGL)
Alphabet's (GOOG) (GOOGL) stock is on fire lately; shares of the online advertising giant have gained over 35% in the past year on the back of rock-solid financial performance for the company. On the other hand, past performance does not guarantee future returns and valuation levels tend to get extended when a stock produces such strong returns. Alphabet is a combination of two main business segments: Google and "Other Bets." Google provides most of the company's revenues and cash flows through its dominant position in online advertising, and the Other Bets division includes a combination of multiple projects in areas with massive potential for disruptive innovation over the long term.
Meanwhile, GOOGL sits on more than $90 billion in cash and investments, and generated $25 billion in free cash flow last year.
The Top 5 Stocks to Buy: Chevron (CVX)
In general, big energy stocks are attractive, but for now, we like Chevron's upside. It's loaded with cash and it survived the oil downturn without having to touch its dividend (which, by the way, yields more than 4% right now).
The past couple years have been bumpy for energy in general and oil in particular, but CVX has survived. Now, it's poised to recover – and surge, right along with oil prices.
Bottom Line
There are certain brands and companies — and even entire sectors — that are so intrinsic to human existence that it's foolish not to invest in that arena.  Blue chip stocks are generally expensive to purchase.  They have good reputations and are often market leaders in their respective industries.  While blue-chip stocks are appropriate for use as core holdings within a larger portfolio, they generally shouldn't make up an entire portfolio. A diversified portfolio should have a balanced allocation of bonds, cash and stocks – including mid-caps and small-caps. Younger investors or those who can tolerate more risk might prefer to hold a greater percentage of their portfolios in stocks, including blue chips.  Older investors, on the other hand, may prefer to focus on capital preservation with larger investments in bonds and cash.
Frequently Asked Questions:
Question:  I'm looking to add blue chip stocks to my portfolio.  Can you identify 10 Stocks To Buy?
Answer:   Need MORE top stocks to buy?  OK, Here are 10 Stocks To Buy – or at least 10 more stocks to watch.  Remember, even with blue chips, never take someone else's recommendations blindly.  Always do your own research…  Facebook (FB)… Boeing (BA)… Alexion Pharmaceuticals (ALXN)… Pioneer Natural (PXD)… Vertex Pharmaceuticals (VRTX)… Raytheon (RTN)… Alibaba (BABA)… Skechers USA (SKX)… 2U Inc (TWOU)… MasTec (MTZ)…
Penny Stocks To Buy Now
Are you looking for stocks that are more affordable?  Check out Penny Stocks to Buy Now…