Highest Paying Dividend Stocks – Blue Chip Dividend Stocks to Buy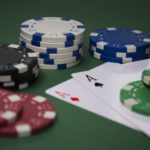 Buying a stock is the same as purchasing an ownership stake in a company.  As an owner, you are entitled to share in the company's profits.  Some companies choose to distribute a portion of earnings to their shareholders in the form of cash dividends.  The highest paying dividend stocks tend to be from mature, financially healthy firms that generate consistent cash flow and outperform the market in general.
However, not every company pays a dividend.  Some prefer to reinvest cash to pay down debt, grow their core business, or build capital reserves.  Newer companies, early in their growth often reinvest profits to expand their business.
Top 5 Dividend Stocks to Buy
A company that pays consistent dividends is likely to be a mature, financially healthy firm that generates consistent cash flow.  These companies tend to be stable with dependable earnings and less volatile stock prices than the market in general.   Dividend stocks with a long track record of rising payments tend to generate superior returns over long periods of time.  They can also help an investor weather shorter periods of market turbulence. Not all high dividend stocks are smart investments. Use this information as a starting point for your own research…
Highest Paying Dividend Stocks – AT&T (ATT), Dividend Yield 6.5%
AT&T has established a reputation for rewarding its shareholders with 34 years of consecutive annual payout increases and regular dividend growth. The company looks able to continue to meet and increase its payout for the foreseeable future. That is impressive news considering the current 6% yield.  AT&T is America's second largest mobile service provider by measure of subscribers, trailing only Verizon. That strong position in the wireless service space allows it to leverage brand strength.  It also benefits from economies of scale to deliver reliable cash flow
High Yield Dividend Stocks – I B M Corp (IBM), Dividend Yield 5.4%
IBM is less flashy than its high-growth peers in the tech sector.  However, its stock offers a great all-around value, especially for income-seeking investors. Shares trade at a low earnings multiple.  Moreover, they offer a big yield backed by a great history of dividend growth.  The company's reasonable payout ratios suggest that it should be able to continue its track record of delivering regular dividend growth.
Highest Dividend Yield Stocks – JPMorgan Chase (JPM), Dividend Yield 3%
JPM is a financial holding company. The Company is engaged in investment banking, financial services for consumers and small businesses, commercial banking, financial transaction processing and asset management.  The banking giant has a long impressive dividend history going back to 1998. After the financial crisis in 2008, JPM  slashed the annual dividend to 20 cents in 2010, down from $1.52 in 2008. The payout has increased every year since 2010 and now sits at its highest level in two decades.
High Dividend Stocks Buy Now – Cisco Systems (CSCO), Dividend Yield 2.9%
Cisco is engaged in designing and selling a range of technologies across networking, security, collaboration, applications and the internet cloud.  The computer networking giant has grown dividends to shareholders since 2011.
Highest Paying Dividend Stocks – McDonald's (MCD), Dividend Yield 2.6%   
MCD operates and franchises McDonald's restaurants. The Company's restaurants serve a locally relevant menu of food and drinks sold at various price points in over 100 countries.  The burger chain has paid and grown dividends every year since 1976.
Penny Stocks to Buy Now
Looking for something a little more affordable than blue chip stocks? Check out:  Hottest Penny Stocks to Buy…
Are you interested in Gold as an inflation hedge?  Check out:  Gold ETF – (Exchange Traded Funds)…