Penny Stocks to Buy  – Gold Mining Penny Stocks to Buy Now May 2019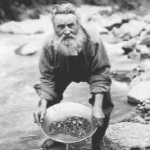 Nothing guarantees profits in any investment.  The potential to make money with gold mining penny stocks starts with identifying and thoroughly researching well-run companies. A gold mining company should have the same characteristics as a blue chip company. The company needs to have an experienced management team in place overseeing the ongoing mining operations. The financials should be strong enough to attract investment capital that is used to grow the business. Although gold penny stocks to buy cost only $5 or less, that can quickly change if the company strikes gold or becomes an acquisition target by a larger gold mining corporation.
Gold Penny Stocks – The Best Penny Stocks to Buy Now?
Trading gold penny stocks is risky because many of these companies are in a developmental stage. They are not generating income from the production of gold and are heavily dependent on outside financing to keep their business alive.
Gold penny stocks are gold companies that trade under $5 per share and have a small market capitalization. To trade on the NASD or NYSE firms must adhere to financial, accounting, and regulatory requirements. Most penny stocks don't meet those requirements and trade on the OTC Markets instead.  However, the best gold penny stocks release financial disclosures and other important information that investors can rely on to make decisions.
If a gold penny stock moves from $0.02 per share to $0.04 that is a 100% return. If a gold stock moves from $10 to $15 per share that is a 50% gain. Psychologically, the gold stock that moved up $5 seems like a larger move than the gold penny stock that moved $0.02 higher.  But in percentage terms it's not. Gold penny stocks give investors a low barrier of entry and exposure to the gold market. Many of them are priced low so smaller investors can leverage their capital.  This allows them to profit to a larger degree from smaller overall price moves.
How to Invest in Gold Mining Penny Stocks
Investing in gold penny stocks is not without risk.  They tend to be highly speculative:
Small market capitalization
Lack of liquidity
Thin trading volume
Lack of disclosure
Still, you can invest a rather small amount of capital into penny mining stocks to hold several thousand shares.  This could set you up for a pretty significant percentage return if the value of the share increases by just a few cents. Just be aware that you could lose your entire investment if the share price drops.  The first step is to do your homework and research potential gold mining companies…
Verify Operations for Gold Mining Penny Stocks
The Over the Counter Bulletin Board can be a scary place to a new investor.  It is even possible for a corporation to exist there "only on paper". If a company owns land, the deed will be recorded in public records. You must verify that a corporation claiming to be a gold stock company owns or has access to land with known gold reserves and has ongoing mining operations. If the mine is located on public lands, the U.S. Bureau of Land Management has the documents on file proving the company has the right to mine for ore.  Once you have verified land access and operations, you should research the following:
Management Team
The officers and board of directors play a critical role in determining the success or failure of a penny gold stock. The management team must have sufficient education and experience to move the company from the OTCBB onto a major exchange. Equally important is the presence of mining experts such as engineers and geologists that know how to find and extract gold from the earth. Another thing to look for is whether management is buying or selling company shares. Managers who have large stock holdings with minimal selling indicate they have a personal stake and commitment to the company's success.
Financial Statements
Penny gold stock company financial statements are public record and available on financial websites. These documents reveal a company's financial health. The balance sheet lists the company's assets and liabilities. The assets should be larger than the liabilities. The equipment account shows how much money the company has invested in mining equipment. The income statement tells how much revenue the company earns and the expenses that it pays. The cash flow statement reveals the company's revenue sources along with its operating, investing and financial activities. The company financial statements should make sense and help you decide if the stock is worth buying.
Regulatory Compliance
When investigating gold penny stocks, look at the company's filing history with regulatory agencies. Companies listed on the OTCBB must register with the Securities and Exchange Commission and must be filing their quarterly and annual financial reports. The filing requirements for OTCBB companies are far less demanding than those for companies listed on the major stock exchanges, so it is a warning sign when a company cannot meet the OTCBB minimal filing requirements. You can go to the SEC website, view the filed documents, and verify that the company is current with its filings.
10 Gold Mining Penny Stocks to Buy Now – May 2019
Harmony Gold Mining Company Limited (HMY)
Harmony Gold Mining Company Limited, incorporated on August 25, 1950.  It is engaged in gold mining and related activities, including exploration, extraction and processing.   The Company has operations in South Africa and Papua New Guinea (PNG). HMY's principal product is the Gold bullion. The Company's exploration projects include Golpu project and Kili Teke prospect. HMY has approximately nine underground mines, one open pit operation and several surface sources in South Africa. The Company's subsidiaries include Lydenburg Exploration Limited, Tswelopele Beneficiation Operation (TBO) and Harmony Copper Limited.
McEwen Mining Inc (MUX)
McEwen Mining Inc., incorporated on July 24, 1979, is a mining and minerals production and exploration company. The Company is focused on precious and base metals in Argentina, Mexico and the United States. The Company's segments include Mexico, Minera Santa Cruz S.A. (MSC), Nevada and Los Azules.
Kinross Gold Corp (KGC)
Kinross Gold Corporation is a gold mining company. The Company is engaged in gold mining and related activities, including exploration and acquisition of gold-bearing properties, the extraction and processing of gold-containing ore, and reclamation of gold mining properties. KGC's segments include Fort Knox, Round Mountain, Bald Mountain, Kettle River-Buckhorn, Kupol, Paracatu, Maricunga, Tasiast and Chirano. The Company's gold production and exploration activities are carried out in Canada, the United States, the Russian Federation, Brazil, Chile, Ghana and Mauritania. Kindross Gold Corp produces gold in the form of dore, which is shipped to refineries for final processing. The Company also produces and sells silver.
Gold Resource Corp (GORO.A)
Gold Resource Corporation, incorporated on August 24, 1998, is a mining company. The Company is a producer of metal concentrates that contain gold, silver, copper, lead and zinc, and dore containing gold and silver at the Aguila Project within its Oaxaca Mining Unit located in the southern state of Oaxaca, Mexico. GORO has two units in North America, the Oaxaca Mining Unit and the Nevada Mining Unit. Its assets are located at its Oaxaca Mining Unit, located on its Aguila Project, including its Aguila milling and smelting facility and Arista underground mine. The Aguila milling and smelting facility produces metal concentrates and dore from ore mined from the Arista Mine. All of its production and revenue comes from its Oaxaca Mining Unit.
Golden Star Resources Ltd (GSS)
Golden Star Resources Ltd., incorporated on May 15, 1992, is a gold mining and exploration company. The Company's segments include Wassa, Bogoso/Prestea, Other and Corporate. GSS, through its subsidiary, Golden Star (Wassa) Limited, owns and operates the Wassa open-pit gold mine, the Wassa underground mine and a carbon-in-leach (CIL) processing plant (Wassa), located northeast of the town of Tarkwa, Ghana. The Company, through its subsidiary Golden Star (Bogoso/Prestea) Limited, owns and operates the Bogoso gold mining and processing operations (Bogoso), the Prestea open-pit mining operations and the Prestea underground development project located near the town of Prestea, Ghana. Golden Star Resources Ltd holds interests in various gold exploration projects in Ghana and other parts of West Africa, and in South America it holds and manages exploration properties in Brazil.
Yamana Gold (AUY)…
Is an intermediate gold producer.  Yamana is engaged in the acquisition, exploration, development and operation of mineral properties in Brazil, Argentina, Honduras and Nicaragua.  It primarily sells precious metals, including gold, silver, and copper. The company was formerly known as Yamana Resources Inc. and changed its name to Yamana Gold Inc. in July 2003. It was founded in 1980 and is based in Toronto, Canada.
Pershing Gold (PGLC)…
Is a gold and precious metals exploration company. The Company explores, develops and operates mines in Pershing County, Nevada. Americas Silver Corporation and Pershing Gold Corporation announced an all-stock merger agreement.  The objective is to create an Americas focused precious metals producer. Shares of Pershing surged more than 10% on the day following the announcement.
Hecla Mining (HL)…
The Company discovers, develops and produces silver, gold, lead and zinc. It provides precious and base metals to the United States and around the world. Hecla has been operating in the mining space since 1891.  It currently operates a mining portfolio across the US, Canada and Mexico.
Eldorado Gold (EGO)…
Is a Canada-based gold exploration, development and mining company. The Company's geographical segments include Turkey, Brazil, Greece, Romania among others.
U.S. Gold (USAU)…
Is an exploration stage company.  The Company focuses on the exploration and development of gold and precious metals properties in the United States. It owns the Copper King gold-copper project in Wyoming and the Keystone project in Nevada's Cortez Trend. US Gold controls properties that could potentially host a significant gold deposit.   It currently has claims in one of the most prolific gold producing regions in the world.
Coeur Mining (CDE)…
Is a gold and silver producer. The Company has its mines located in the United States, Mexico, and Bolivia and exploration projects in Mexico and Argentina.
Top 5 Stocks To Buy Now – Blue Chip Stocks
Are you interested in Blue Chip Stocks?  Check out these Top Stocks to Buy Now.