Aerospace Defense Sector Stocks for 2019 – Top Ten Defense Stocks Just Too Big to Fail…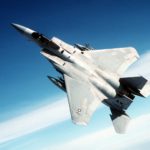 The Aerospace defense sector has been rallying.   This is due to an improving outlook for both the defense and commercial aerospace businesses. There have been increasing budget allocations in America because of escalating geopolitical tensions worldwide.  This increase in spending has positively impacted and boosted defense related stocks.  At the same time, a steady improvement in air traffic has given an upward thrust to commercial airplane demand. Investors should keep a watch on the largest defense contractor stocks that have the financial strength to withstand headwinds and reflect an impressive earnings scorecard.
Aerospace Defense Sector: Aerospace Defense Industry Overview   
The Aerospace Defense Sector serves two main markets. Aerospace largely comprises the production, sale, and service of commercial aircraft. Defense, is dependent on the nation's need for military weapons and systems designed to operate on land, sea, and in the air. Also included in this industry is the production of general aircraft (mostly for business use) and space vehicles (usually satellites) for both military and commercial use.  Most commercial aircraft are sold to the world's airlines. A few are configured for general aviation use, serving nations, companies, or individuals that need large aircraft for transportation outside of those available to the public.
Aerospace Defense Sector: Aerospace Defense Industry Analysis
Historically, airlines based in the United States have provided the largest market for commercial aircraft. But in recent years, foreign airlines (many subsidized by local governments) have become the major source of orders.
The United States military comprises by far, the largest market for Aerospace Defense Sector – equipment, systems, and services in the world. The companies included in this sector not only serve America's needs, but often are the suppliers most sought by U.S. allies and friends. There are political reasons for using U.S. suppliers.  However, by serving the huge domestic defense market, American defense contractors tend to be leaders in the technical aspects of weapons systems. National defense is not about silver medals and valor in combat.  Success is measured solely by winning or losing.
Aerospace Defense Sector: Aerospace Industry Outlook 
COMMERCIAL AVIATION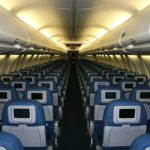 The commercial and general aviation aircraft segment is composed of private companies that design, manufacture and service commercial aircraft, business jets, helicopters, personal aircraft, unmanned aerial vehicles, and their subsystems and components, such as engines, flight controls, avionics, parts, and raw materials. In total, commercial and general aviation aircraft manufacturing is the largest sub-segment of the A&D industry.  It is characterized by a supply chain comprised of over twenty thousand supplier companies.  Most of these sub-suppliers are small and medium sized businesses.
Best Defense Stocks Commercial Aviation – Airbus SE (EADSF.PQ)
Arms sales make up 18 percent of Airbus business or $12.9bn in sales
Airbus SE, formerly Airbus Group SE, is a company based in the Netherlands.  The company is active in the aerospace and defense industry. Airbus operates through three segments: Airbus Commercial Aircraft, Airbus Helicopters and Airbus Defence and Space. The Commercial Aircraft segment focuses on the development, manufacturing, marketing and sale of commercial jet aircraft and aircraft components, as well as on aircraft conversion and related services. The Airbus Helicopters segment specializes in the development, manufacturing, marketing and sale of civil and military helicopters, as well as on the provision of helicopter related services. The Defence and Space segment produces military combat aircraft and training aircraft.  It provides defense electronics and global security market solutions, and manufacturers and markets missiles.
Best Defense Stocks Commercial Aviation – Boeing Company (BA)
Arms sales make up 29 percent of Boeing's total business and include aircraft such as the F-15, F-18 and F-22.
The Boeing Company, incorporated on July 19, 1934, is an aerospace company. The Company is engaged in the design, development, manufacture, sale, service and support of commercial jetliners, military aircraft, satellites, missile defense, human space flight and launch systems and services. The Company's segments include Commercial Airplanes; Defense, Space & Security (BDS), including Boeing Military Aircraft (BMA), Network & Space Systems (N&SS) and Global Services & Support (GS&S), and Boeing Capital (BCC). The Company is also a defense contractor in the United States.
Earnings per share for 2018 were up 29% on record revenue, which was up 8% exceeding $100 billion for the first time.  Boeing stock went up $23 to $388 after the January 30 earnings announcement.  Guidance for 2019 is revenue up 8% to 10% and EPS up 23% to 24%. It is a strong buy.
 MILITARY AIRCRAFT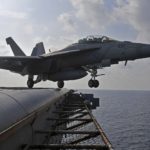 Directly related to the design and production of civil aircraft, the military aircraft segment is defined by the manufacture of combat and non-combat aircraft and related systems including transports, fighter aircraft, patrol aircraft, bombers, helicopters, unmanned aerial systems, and other platforms. This sector also includes the design and manufacture of specialized avionics, radars, engines, guidance-and-control systems, reconnaissance and surveillance systems, and navigation systems.
Defense Aerospace Industry –  Lockheed Martin (LMT)
Based in the US state of Maryland, the company manufactures aircraft, radar systems, drones and even components for spacecraft for the US military and foreign states.  Its most famous products include the F-16 fighter plane and the Hercules transport plane.  Lockheed Martin sold $36bn of arms in 2015, turning a profit of $3.6bn that year, and as of October 2017 had a total market value of $91bn on the New York Stock Exchange.
Today, Lockheed Martin is the largest defense company in the world. LMT receives 60% of revenues from the U.S. Department of Defense. The remainder of the company's revenues are split almost equally between other U.S. government agencies and international clients.
Lockheed Martin is composed of four divisions: Aeronautics, which produces fighter aircraft such as the F-35; Rotary & Mission Systems, which produces combat ships, naval electronics and Sikorsky helicopters; Missiles & Fire Control, which houses missile defense systems; and Space Systems, which produces satellites.
Defense Contractor Stocks – United Technologies (UTX)
UTX manufactures the Black Hawk helicopter for the US military.
United Technologies Corporation, incorporated on July 21, 1934, is engaged in providing high technology products and services to the building systems and aerospace industries around the world. The Company operates through four segments: Otis; UTC Climate, Controls & Security; Pratt & Whitney, and UTC Aerospace Systems. Otis, UTC Climate and Controls & Security (collectively, referred to as the commercial businesses) serve customers in the commercial, government, infrastructure and residential property sectors and transport and refrigeration businesses around the world. Pratt & Whitney and UTC Aerospace Systems (collectively referred to as the aerospace businesses) primarily serve commercial and government customers in both the original equipment and aftermarket parts and services markets of the aerospace industry.
 Defense Aerospace Industry –  Northrop Grumman (NOC)
Based in the US state of Virginia, Northrop Grumman produces drones, warplanes, aircraft components and radar systems.  Northrop Grumman Corporation, incorporated on August 4, 2010, is a global security company. The Company provides products, systems and solutions in autonomous systems; cyber; command, control, communications and computers, intelligence, surveillance and reconnaissance (C4ISR); strike, and logistics and modernization. The Company's segments include Aerospace Systems, Mission Systems and Technology Services. The Company participates in a range of defense and government programs in the United States and abroad. The Company also conducts business with foreign, state and local governments, as well as commercial customers.
SPACE SYSTEMS OPERATIONS
The space industry today has emerged as a critical pillar of the nation's security and driver of the modern economy. Presently, the domestic space industry is defined by the design, manufacture and operation of space launch vehicles, satellites, spacecraft and ground systems for both the commercial and government end-use markets.  Enhancing military effectiveness through the use of space is vitally important.  Satellites and launch capacity enhance communication and tracking.  Space systems are essential for space surveillance, space lift, space warning and satellite command and control.
Best Missile Defense System – Raytheon (RTN)
Raytheon's primary focus is producing missile and weapons systems for aircraft and naval vessels. The company builds the MIM-104 Patriot is a surface-to-air missile (SAM) system.  It is the only one of its kind and is used by the United States Army and several allied nations.
Raytheon Company is a technology and innovation leader specializing in defense, civil government and cybersecurity solutions. Founded in 1922, Raytheon provides state-of-the-art electronics, mission systems integration, sensing, effects and mission support services.
 Aerojet Rocketdyne Holdings Inc (AJRD)
Aerojet Rocketdyne is an engineering and manufacturing company.  It develops and produces specialized propulsion systems for space and defense applications, as well as armament systems for precision tactical systems and munitions. The company offers liquid launch propulsion, in-space propulsion, missile defense propulsion, tactical missile propulsion and hypersonic propulsion systems. AJRD develops and manufactures all four propulsion types (liquid, solid, air-breathing and electric) for defense, civil and commercial applications. Rocketdyne supplies products and systems for military, civil and commercial customers. It designs, develops and produces propulsion and warhead systems for tactical missiles. The company also develops and manufactures liquid and solid divert and attitude control (DAC) propulsion systems and booster motors for missile defense applications. Additionally, it develops and manufactures boost and post-boost rocket motors for strategic missiles.
GROUND OPERATIONS TRAINING 
The U.S. military relies on an array of ground-based platforms and systems designed to address the rigorous needs of the U.S soldier and the nation's armed forces. This segment of the Aerospace Defense Sector includes the manufacture of tanks, tactical vehicles, transports and related platforms and systems such as communications, computers and electronics. The ground defense segment also includes the manufacture of armaments, ordinance, small and light arms, and related components and supplies.
Best Defense Company Stocks – General Dynamics (GD) 
General Dynamics produces the M1A Abrams tank, the main battle tank used by the US military.
GD is headquartered in Falls Church, Virginia, and produces aircraft, submarines, warships, combat systems including weapons and munitions, and a wide range of information systems and technology. In 2017, 63% of GD's revenue was earned through contracts with the U.S. government. The company's remaining business is about 10-15% each to U.S. commercial customers, non-U.S. commercial customers and non-U.S. government customers, respectively.
Aerospace Defense Sector Stocks – Olin (OLN)
Olin provides chemicals and ammunition.  The ammunition business is strong due to the Iraq and Afghanistan wars.
Olin Corporation (OLN) is a Clayton, Missouri based manufacturer of commodity chemicals and ammunition. Initially founded in 1892, the company has a market cap of ~$3.25 billion and employs ~6,400 throughout the world. Olin grew its scale significantly when it purchased Dow Chemical's Chlor Alkali and Vinyl, Global Chlorinated Organics, and Global Epoxy businesses for a consideration of ~$5 billion consisting of cash ($2 billion), stock (~$2.2 billion), and liability assumption (~$0.8 billion) in 2015.
The company has three operating segments: Chlor Alkali Products and Vinyls, Epoxy, and Winchester.  The stock is currently trading near 52-week lows. It is cheap on a valuation basis and had recent strong insider buying in November.  Because of the share price drop in 2018, Olin provides a dividend yield over four percent.
US NAVY SHIPBUILDING 508/82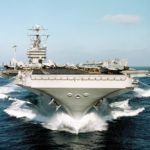 The Navy's 2019 shipbuilding plan calls for expanding the fleet to 355 battle force ships.  The shipbuilding segment of the U.S. Aerospace Defense Sector is composed of only a handful of companies that manufacture and service the nation's military seagoing vessels.  This includes submarines, destroyers, aircraft carriers, cruisers, cutters, transports and amphibious assault and transport ships. Under the 2019 plan, the Navy will buy 301 ships over the 2019–2048 period: 245 combat ships and 56 combat logistics and support ships.  If fully carried out, the 2019 shipbuilding plan represents the largest naval buildup since the Reagan Administration in the 1980s.
Aerospace Defense Stocks– Huntington Ingalls Industries, Inc (HII)
Huntington Ingalls Industries (NYSE:HII) builds navy destroyers, submarines, aircraft  carriers, amphibious ships and USCG cutters.  The current orders and backlog are keeping Huntington Ingalls shipyards at high capacity.  The company received $2.8 billion new orders for a backlog of $22 billion.  Its dividend increased by 19.4%.  Huntington Ingalls has been showing solid performance, growing revenues in the high single digits. The company continues to improve profitability and return capital to shareholders through buybacks and dividends. The result is increased earnings per share EPS.  The share count is falling and profitability growing through margin expansion and new contract awards.  With nearly full shipyards, the company is implementing facility and manufacturing improvements to retain its position as a competitive and affordable Navy shipbuilder.  HII has three financial business units – Newport News (mainly the Virginia shipyard), Ingalls (mainly the Mississippi shipyard) and Technical Services.
Aerospace and Defense News – Bottom Line for 2019:
In 2018, the global aerospace and defense (A&D) industry recovered and solidified.  Still, the Aerospace Defense Sector experienced a solid year as passenger travel demand strengthened and global military expenditure continued to rise.  Aerospace Defense Sector Stocks are expected to continue their growth trajectory in 2019, led by growing commercial aircraft production and strong military defense spending.
Top Technology Stocks – Top Tech Stocks to Watch for 2019 
Are you interested in technology stocks?  Click here to check out  Top Tech Stocks to Watch for 2019
The technology sector features stocks related to developing and distributing technologically based goods and services. This sector contains businesses that manufacture electronics, create software, and provide computers or products and services relating to information technology. The Top Tech Stocks often drive overall market activity.