Top 5 Stocks to Buy Now – Bulldogs of the Dow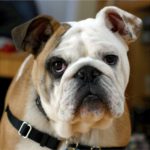 Dogs of the Dow is a stock picking strategy used to select undervalued stocks in the Dow Jones Industrial Average (DJIA).   It simply involves selecting the highest dividend paying Dow stocks in the expectation they will outperform the market during the next twelve months. However, the strategy has come under criticism due to the fact dividends alone are a poor indicator of a company's value.  Bulldogs of the Dow are recommended as the Top 5 Stocks to Buy Now.  They are selected from the Dow Jones 30 Industrials, but target those stocks with highest Return on Investment (ROI) and with the highest Free Cash Flow (FCF).  These metrics are believed to be a much better indicator of value than dividends alone.
Top Stocks to Buy – Apple Inc (AAPL)
Return on Investment (ROE) 36.9%   Free Cash Flow (FCF) 5.8%
Apple Inc. designs, manufactures and markets mobile communication and media devices, personal computers and portable digital music players. The Company sells a range of related software, services, accessories, networking solutions and third-party digital content and applications.
Top 5 Stocks to Buy Now – Boeing Company (BA)
Return on Investment (ROE) 421.8%    Free Cash Flow (FCF) 6.4%
Boeing is the world's largest aerospace company.  It is a leading manufacturer of commercial jetliners, defense, space and security systems, and provider of aftermarket support. Boeing is America's biggest manufacturing exporter.  The company supports airlines and U.S. and government customers in more than 150 countries. Boeing's products and services include commercial and military aircraft, satellites, weapons, electronic and defense systems, launch systems, advanced information and communication systems, and performance-based logistics and training.
Top 5 Stocks Buy Now – International Business Machine (IBM)
Return on Investment (ROE) 61.7%    Free Cash Flow (FCF) 7.9%
International Business Machines Corp. is an information technology company.  It provides integrated business solutions that leverage information technology with the knowledge of business processes.  IBM ranks among the world's largest information technology companies.  It provides a wide spectrum of hardware, software and services offerings.
Top 5 Stocks Buy Now – Microsoft Corporation (MSFT)
Return on Investment (ROE) 28.9%    Free Cash Flow (FCF) 4.9%
Microsoft Corporation is an American multinational technology company with headquarters in Redmond, Washington. It develops, manufactures, licenses, and sells computer software, consumer electronics, personal computers, and related services. Its best known software products are the Microsoft Windows line of operating systems, the Microsoft Office suite, and the Internet Explorer and Edge web browsers. Its flagship hardware products are the Xbox video game consoles and the Microsoft Surface lineup of touchscreen personal computers. It is the world's largest software maker by revenue, and one of the world's most valuable companies.
The Top 5 Stocks to Buy – United Health Group (UNH)
Return on Investment (ROE) 21.3%    Free Cash Flow (FCF) 6.1%
UnitedHealth Group Inc. is a health care company with its headquarters in Minnesota, USA. It offers a variety of health care services and products. UnitedHealth Group is the largest healthcare company in the world.  It serves over 70 million people throughout the United States and has a net income of $10.82 billion on revenues of $201 billion in 2017.
What is the 'Dow Jones Industrial Average – DJIA
The Dow Jones Industrial Average (DJIA) – or the Dow – is a price weighted average of 30 of the most significant stocks that currently trade on the on the New York Stock Exchange (NYSE) and the Nasdaq exchange. The Dow is one of the oldest, single most-watched indices in the world.  When financial news networks report that the market is "up or "down", they are usually referring to the DOW (DJIA).   To maintain a consistent value, the index adjusts the price weighted average for stock dividend distributions or stock splits by any of the member companies.
What is 'Return on Investment (ROI)
Return on investment (ROI) measures the gain or loss generated on an investment relative to the amount of money invested. Put another way, ROI tries to directly measure the amount of return on a particular investment, relative to the investment's cost. ROI is usually expressed as a percentage and is typically used to compare a company's profitability. To calculate ROI, divide the benefit (or return) of an investment by the cost of the investment. The result is expressed as a percentage or a ratio.
What is Free Cash Flow (FCF)
Free Cash Flow (FCF), is a ratio of how much more cash a company generates than it uses. In other words, FCF identifies the excess money a business produces after it pays all of its operating expenses and capital expenditures. This is important because it shows how efficient the business is at generating cash.  It further identifies if there is anything "left over" after funding operations and expansions.  FCF is harder to manipulate and it can tell a much better story of a company than more commonly used metrics like net income. The presence of free cash flow indicates that a company has cash to expand, develop new products, buy back stock, pay dividends, or reduce its debt.
Penny Stocks To Buy Now
Are you looking for stocks that are more affordable?  Check out Penny Stocks to Buy Now…